PDSUPDTE
PDSUPDTE is a reconstituted version of the IPOUPDTE program (also distributed as CPPUPDTE). It provides the ability to apply a group of search/replace type modifications to JCL or control cards contained in all members of one to several libraries (Partitioned Datasets). It can also be useful for searching for and changing fields in source code statements.
PDSUPDTE is located in File #65 of the CBT Overflow tape and is part of a collection submitted by the Los Angeles User Group.
Installation
Installation is a simple assemble/link of a single load module, contained in the jobstream PDSUPDT$.JCL. This jobstream, plus a PDF containing the users guide (described below) is contained in the archive pdsupdte.tgz [MD5: 0F559B100800C9C4AFA5C13B36FFE8FA]. Download the archive and extract the jobstream (WinZip on Windows/?? or tar on Linux). Submit the jobstream to assemble and link the load module for PDSUPDTE into SYS2.LINKLIB. If you don't have SYS2.LINKLIB defined, you will need to modify the jobstream to specify a target load library. The target load library need not be authorized.
PDSUPDTE User's Guide
The catalyst that motivated me to include this program on my site was a question I received asking why I didn't include the documentation for IPOUPDTE on this site. After doing some research, which indicated that that documentation was already available in several places on the Internet, I decided that I wasn't interested in setting up a page to include another copy of that documentation without including a program usable to the Hercules/MVS/MVT community. When I saw that there was a version of the program available from CBT, under the name PDSUPDTE, I created this page for that version of the program and produced a version of the IPOUPDTE documentation tailored to match PDSUPDTE.
PDSUPDTE provides, as far as I can tell, identical functionality to IPOUPDTE/CPPUPDTE, with these two exceptions:
libraries eligible for search/update are not required to contain a member named $$$COIBM

error message numbers are prefixed PDS instead of IPO
I have edited a copy of the IPOUPDTE documentation to reflect these differences. A PDF version of it is viewable in pdsupdte.pdf and is also included in the archive named above with the installation jobstream for the program.
---
I hope that you have found my instructions useful. If you have questions that I can answer to help expand upon my explanations and examples shown here, please don't hesitate to send them to me: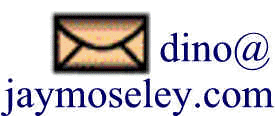 ---
---
This page was last updated on January 17, 2015 .